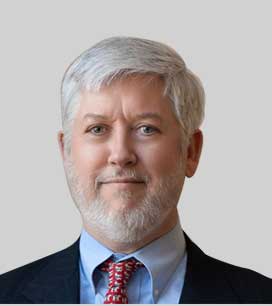 William H. Hope II
Working in-house and with an Am Law 100 law firm, Bill has been representing institutional investors in the U.S., Asia, and Europe for over thirty years. Concentrating on the regulation of derivatives and other complex financial products, Bill helps institutional investors and their service providers address various issues arising under federal securities and banking laws, the Commodities Exchange Act, the Employee Retirement Income Security Act of 1974 (ERISA) and state insurance law.

As a Chartered Financial Analyst, a recipient of the Certificate in Investment Performance Measurement (CIPM®), and a Financial Risk Manager (FRM®), Bill brings to the representation of his clients a multi-disciplinary understanding of the financial markets that he uses to deliver practical and comprehensive solutions to meet the needs of his clients.
CERTIFICATIONS AND LICENSES
Member, New York and Georgia Bar
Chartered Financial Analyst® (CFA®)
Certificate in Investment Performance Measurement® (CIPM®)
Financial Risk Manager® (FRM®)
PROFESSIONAL AND COMMUNITY INVOLVEMENT
Disciplinary Review Committee, CFA Institute (2009-2011)
Board of Trustees and Vice President, Education Chair, Atlanta Society of Financial and Investment Professionals ("ASFIP") (2004-2007)
Instructor, preparatory review classes for CFA Level I, II, and III exams, sponsored by the ASFIP.